Web Blog Hosting
Very recently I added to my product list Web Blog Hosting, at BRap Hosting.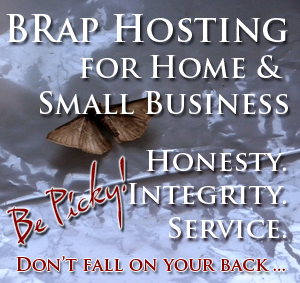 Advantages of Personal Web Blog Hosting
The advantages of personal web blog hosting over free hosting are basically three:
a) You are not bound by subjective restrictions like upload space, and size and bandwidth and so forth. With personal web blog hosting it's your domain, you can do what you want with it.
b) With personal web blog hosting every time you post you are building your own domain, your own online real estate, as opposed to somebody else's domain.
c) The free blogging services finance their service by putting third party ads on your blog. You are doing them a favor by giving up something that costs money. That's how they do their finance. Instead of giving away the advertisements to a third party, put your own advertisements there.
For more information Click Here.



Author: Boruch Rappaport

If you enjoyed reading the above, please consider following future tips and strategies by RSS reader, or Email delivery.